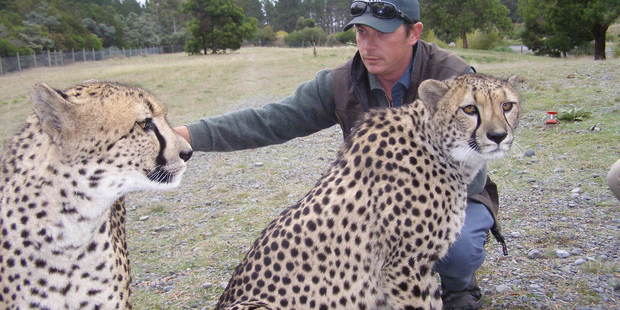 Christchurch's Orana Wildlife Park has welcomed two new South African girls.
The arrival of two-year-old Lusi and three-year-old Kiana take the park's cheetah population to 13 - nine males and four females.
The unrelated cheetahs come from Cango Wildlife Ranch in Oudtshorn, South Africa, as part of the zoo-based cheetah breeding programme.
"Lusi and Kiana are very sociable, friendly animals. We are able to get quite hands-on with them and they enjoy being patted. The cats are adjusting to their new surrounds and at times are still quite wary, but when we arrive with food they quickly approach us," said Aaron Gilmore, the zoo's head keeper of exotic mammals.
"Lusi and Kiana are very inquisitive, playful youngsters, being interested in the slightest movement such as the swinging of a camera lens. We think they will in time be prime candidates to chase our new lure. Considering our resident cheetah are maturing and are focused on breeding we are certain these younger cats will keenly demonstrate their pace.
The chase has great health benefits for the cats and visitors are enthralled at this natural behaviour demonstrated by the world's fastest land mammal."
Orana has to date raised eighteen cats to adulthood. The zoo said this is a significant achievement as cheetah are a notoriously difficult species to breed in captivity. Only a small number of zoos worldwide have experienced repeated breeding success with these quick cats.
"We are confident that Lusi and Kiana will be compatible with our resident males and contribute to the preservation of their species," Mr Gilmore said.
- nzherald.co.nz