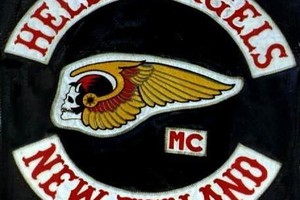 A Hells Angels gang associate was caught with more than 300 grams of methamphetamine and a stash of cash and firearms in a police gang unit crack-down.
The man was arrested in Albany after an investigation by the motorcycle gang unit of the police organised crime agency Ofcanz.
Detective Senior Sergeant Lloyd Schmid said a search of the man's vehicle found 18 grams of methamphetamine.
A later search of his home found a further 300 grams of methamphetamine with an estimated street value of between $128,400 and $300,000, and tens of thousands of dollars in cash.
Police also found a cache of firearms including a Glock handgun, a 357 Magnum revolver, two .22 calibre rifles, one with a pistol grip, hundreds of rounds of ammunition and five stun guns.
Mr Schmid said the arrest, which involved members of the armed offenders squad and the police specialist search group, was "an excellent result".
He said the cache of weapons was of particular concern.
"Any drug dealer in possession of firearms puts both police and the community at risk."
An unemployed beneficiary was due to appear in North Shore District Court this morning charged with possession of Class A and C controlled drugs for supply, selling Class A controlled drugs and a number of firearms related charges.
- APNZ