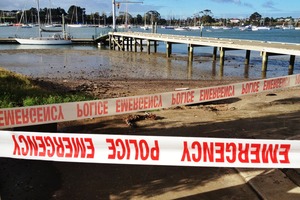 A man who witnessed a car drive down a wharf and plunge into the Tamaki River in Auckland last night says he felt helpless as he watched the vehicle sink.
The man, who lives nearby the Panmure wharf and asked not to be named, said he rang 111 and was told by the receiver to hold his position on land so he could direct emergency services personnel to where the car had entered the water about 8.30pm.
The man was emotional today as he recalled yelling out instructions he was told over the phone.
He yelled for the female driver of the car to take off her seatbelt and wind down her windows as her car was quickly submerged in the water at the Panmure Yacht Club on Kings Rd.
The screaming from the car was so loud he could not tell if there were others inside, he said.
"My natural reaction would have been to launch myself with a dinghy into the water," the man said.
"I saw it go in [and] I watched it sink. I maintained my position to tell police where it had submerged.
"If I could have jumped in the water and freed the girl I would have.
"[But] I was the only person able to talk to [emergency services] about [what was] going down."
Police this afternoon confirmed that the body of a woman had been recovered from inside the vehicle.
The police dive squad arrived at the scene this morning to recover the woman's body and she was believed to have been the only occupant of the car.
Her body was taken to Auckland Hospital for a post-mortem examination and the "process of identification and notification of the next of kin is ongoing".
Police said no one else was being sought over the incident.
- APNZ