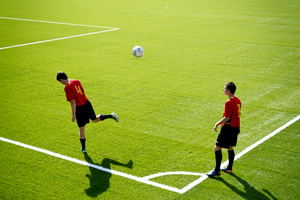 The supplier of crumb rubber for artificial turf playing fields says an Auckland Council investigation has cleared the safety of the product which comes from recycled car tyres.
Pacific Rubber director Andrew Christie said although concerns were raised about toxic contamination from the product, the results of independent testing commissioned by the council found no cause for concern.
He said last week's finding was no surprise to the Takanini firm, which collects 6000 tonnes of tyres a year in the North Island and has supplied more than 30 fields in four countries.
"The findings mirror the United States Environmental Protection Agency findings where the country has constructed over 1300 fields.
"We hope the ratepayers from across New Zealand are spared the expense of further testing on what is a globally accepted product."
Orakei Local Board had $40,000 of scientific tests done on the crumb rubber layer to allay fears raised last year by staff and parents of Ellerslie's Michael Park Rudolf Steiner School.
The school is next to a $2.1 million artificial field which the council opened for play on Saturday.
The council plans to install 37 artificial turf fields over the decade.
Board chairman Desley Simpson said the only test information available was based on overseas work and it was necessary to prove the material was not toxic or harmful in New Zealand fields.