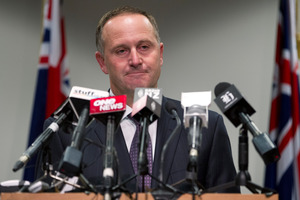 The GCSB's role in ensuring the security of New Zealand's telecommunications networks is to be formalised in new legislation, the Government has announced as part of its overhaul of legislation around the spy agency.
Communications and Information Technology Minister Amy Adams said the changes to the Telecommunications (Interception Capability) Act 2004 will update requirements for telecommunications network operators to have specialised eavesdropping equipment available for use by police, the SIS and the GCSB.
Other changes to the Act mean network operators will be obliged to engage with the GCSB on network security, "where it might affect New Zealand's national security and economic well-being".
Those security requirements are about ensuring telecommunications networks do not contain any unauthorised ability to copy or divert data, are safe from unauthorised access, and do not allow others to carry out espionage or disrupt services.
The new law effectively formalises what the GCSB had been doing anyway, officials told reporters this morning.
Ms Adams said the changes "will not in any way alter the authority of police or intelligence and security agencies to intercept telecommunications, or reduce the checks and balances on how these agencies can access and use private communications information".
"These matters are dealt with under separate legislation."
Meanwhile, officials have given an assurance that information collected by the GCSB when it assists the SIS or police will not be shared with foreign governments or their agencies.
Media were given a technical briefing this morning on the Government's overhaul of the GCSB Act which is being done in response to concerns GCSB surveillance of New Zealanders done in support of the SIS and police over the last decade may not have been legal.
The new legislation will expressly allow the bureau to eavesdrop on New Zealanders when assisting those agencies or when it is conducting information assurance or cyber security functions.
However, the ban on spying on New Zealanders remains when the bureau is conducting its foreign intelligence operations. Officials said any involvement by New Zealanders in matters it is investigating as part of its foreign intelligence operations will be referred to police or the SIS for further investigation. However, that investigation may include those agencies obtaining a warrant allowing them to use the GCSB's advanced eavesdropping capability.
Officials also gave an assurance that the GCSB, which works closely with its US, British, Australian and Canadian counterparts, would not share any information gathered from New Zealanders with overseas agencies.
A briefing paper explaining the legislative changes was to be published by the Department of Prime Minister and Cabinet sometime today.
As part of those changes, the State Services Commissioner's role in running the appointment process for the GCSB director and newly created deputy director roles will be formalised.
Labour Leader David Shearer and Greens Co-Leader Russel Norman last night attempted to force Parliament's Intelligence and Security Committee to initiate an inquiry into how current GCSB director Ian Fletcher was appointed. However the vote on Dr Norman's motion was drawn at two votes each and was therefore effectively defeated. Prime Minister John Key who is committee chair and who shoulder tapped old family friend Mr Fletcher for the job recused himself from the vote.