Father who was discharged without conviction grateful every day for ruling on tragic accident after his son died when trapped in a van that rolled into a lake.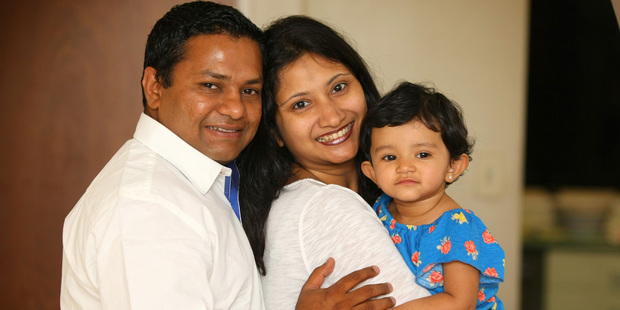 As Ashish Macwan walked into the Auckland District Court to be sentenced over causing the death of his 3-year-old, he was expecting the worst.
But even though he was facing the prospect of jail time he knew no punishment would be as bad as the life sentence he started serving the moment his son Aarush died.
A conviction could mean losing residency and having to leave New Zealand and the body of his child Aarush behind.
It could also mean his pregnant wife Kinnary going to work while he served a home detention sentence.
Mr Macwan's world was turned upside down when on a trip to the South Island with Kinnary, Aarush and relatives visiting from India. As they neared Lake Dunstan, near Cromwell, Mrs Macwan began to feel car sick and asked her husband to pull over. He parked by the side of the lake and got out to stretch his legs, leaving Mrs Macwan, Aarush and three others in the hired van.
As Mr Macwan lit a cigarette, he heard screaming and turned to see the van rolling. He had left the handbrake off, and the van was rolling towards the lake.
He tried to stop the moving vehicle but it was too heavy and plunged into the freezing water, sinking 5m under the surface. Onlookers dove into the water and freed everyone but Aarush, who was in his car seat.
The boy was trapped and despite frantic attempts to free him, he drowned.
Mr Macwan cradled his son in his arms as he went with his wife to hospital in the back of an ambulance. Hours later, police officers called him away from his wife's hospital bed, where she was being treated for hypothermia, and charged him with careless driving causing Aarush's death.
Two years on, the devastated father is still haunted by Aarush's final moments. He suffers flashbacks. He has nightmares. He still expects to see his son come running into the room. It is a daily torment, he says, far worse than any sentence the courts could have imposed.
Mr Macwan pleaded guilty to the charge, and in August 2011 he was granted a discharge without conviction.
Judge Charles Blackie said Mr Macwan's carelessness was "minimal", but police made the right decision in bringing the matter to court.
"It is not for the police to decide the outcome, but the court," he said at sentencing.
Judge Blackie had other sentencing options - home or community detention, forbidding him to drive a vehicle or jail.
"Jail time was the worst conclusion if the judge thought I was guilty. I believe in hoping for the best but preparing for the worst. I had prepared myself for the worst, but there was always a hope in my heart that we could explain how this had happened and the judge would see the truth.
"I honestly did not expect the discharge. When he started narrating the accident, I just started living through it again. I didn't think it would be a discharge without conviction, I was right back there. But the judge understood my case and everything we had tried to convey. I just cried tears and tears.
"It made me believe in the system."
The Macwans moved to New Zealand for a better life when Aarush was a baby. Mr Macwan said if Judge Blackie had stopped him from driving or sentenced him to home or community detention, he would not have been able to provide for his family.
"He understood that if I wasn't able to work or had too many restrictions that would cause my family a great deal more pain. I can't imagine it, it's beyond imagination. My family couldn't have sustained themselves here because I am the one earning for them.
"My wife is a very strong woman, she is a fighter and she would have stayed here for me. But I didn't know how she was going to do that, I would have tried to convince her to go back to India. I think my family would have broken down. That one decision could have changed so many lives."
Mr Macwan's still struggles with feelings of guilt over Aarush's death.
"That is my life sentence. You should not have to bury your children. That is the biggest pain.
"Not a single day goes by where I don't think 'if I could trade my life for his I wouldn't think for a second'. This is more than a life sentence. It's like I'm falling and I keep falling and falling and I still never reach the bottom. It's a constant journey. When you hit the bottom, you can look up and think about recovering - but when you keep falling, you can't. You never find the answer."
The birth of the couple's daughter Aashka has eased some of their heartache. But Mr Macwan describes her as his second chance and grieves she will never know her brother.
Mrs Macwan supported her husband from the beginning and was "beyond relieved" when he was granted the discharge.
A punitive and restrictive sentence "would have been devastating for our family", she said.
"I was getting so so scared. I kept asking our lawyer what the maximum penalty would be. I was really scared about what might happen. I knew I was pregnant; I needed my husband."
Mr and Mrs Macwan are thankful each day for Judge Blackie's decision - but know some people probably do not think justice was done. "I want to thank Judge Blackie, not because he did me a favour, [but] because he did the right thing. It was a tragic accident and I think the judge recognised that. I am always going to be thankful to the judicial system for understanding my pain."
Others who were let off without a conviction
A drunk, high-profile musician escaped a conviction after performing an indecent act on a 16-year-old girl. Judge Eddie Paul also granted the man, in his 30s, permanent name suppression in November 2009 after he pleaded guilty to one charge of committing an indecent act likely to offend. The maximum penalty for that offence is two years in prison.
A mother who left five children in a van in a SkyCity Casino carpark while she and her partner gambled for two hours escaped conviction partly because she hopes to become a social worker. The 29-year-old woman and her 39-year-old partner - who have name suppression to protect the identities of their children - were sentenced after pleading guilty to leaving a child unsupervised.
A Czech man who saw a murder and fled to New Zealand on a false passport was given a second chance to stay in the country. Jan Antolik, also known as Karel Sroubek, was found guilty in November 2011 of having a false passport and lying to immigration officials. This would usually lead to a conviction and jail sentence, giving the Immigration Minister automatic grounds to deport him. But Judge Roy Wade discharged Antolik without conviction after he completed 200 hours of community work, so he could to argue his case to stay. He was convinced that Antolik would still be in danger from corrupt Czech authorities and the man he helped convict of murder if he were deported to the Czech Republic.
A teenager was let off a drink-driving charge because she wants to be a police officer.
The 19-year-old former private school student was discharged without conviction and fined $500 in Auckland District Court in 2007 after pleading guilty to drink driving. She was stopped at an inner-city checkpoint at 5am and returned a blood test of 41ml per 100ml - over the 30ml limit. But the teenager successfully asked the court to be discharged without conviction so she could apply to become a police recruit - a submission opposed by police.
Read more: You be the judge: What sentence would you give?
* Read the Herald's live news blog here.