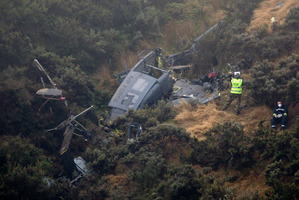 A relieved Air Force flight lieutenant says he is still "haunted'' by a helicopter crash on Anzac Day 2010 that killed three crewmen and seriously injured a fourth.
A military tribunal at the Air Force base at Ohakea today found Flight Lieutenant Dan Pezaro not guilty over the collision near Paraparaumu.
After the verdict he faced media with his wife Carol Pezaro, who is also in the Air Force, and said he understood why it was important to have a full and thorough investigation.
"But it is a relief that after nearly three years that this has come to an end,'' he said.
"I have been haunted by the events of the day of Anzac Day 2010 and constantly going over in my mind what I could have done differently.
"I really feel for all the family members involved in this terribly tragedy and I hope this gives them closure on the event,'' he said.
He thanked his family for their support throughout the process.
When the verdict was announced by Wing Commander Shaun Sexton, Flight Lieutenant Pezaro smiled and shook hands with his defending officer, Squadron Leader Ron Thacker, before hugging members of his family who attended the hearing.
In giving his decision, the disciplinary officer hearing the case, Wing Commander Shaun Sexton, said all elements of the charge needed to be proven beyond reasonable doubt. "I am not able to do so in this case.''
He said it was not in dispute that Daniel John Pezaro was in command of Iroquois Black on the morning of April 25, 2010, that in the vicinity of Paraparaumu the cloud conditions deteriorated below minimum flying standard, and that Pezaro failed to abort the transit.
What was in dispute was whether the duty to abort the flight was imposed by service orders, training or custom, that a reasonable capable and careful officer of similar seniority and experience would have known it was their duty, and would not have failed to abort the flight.
Wing Commander Sexton said while the minimum weather conditions for flying were specified in orders, there was no specific order directing the air crew's response when approaching minimum conditions. This was determined by custom and training.
He said he was not confident that Flight Lieutenant Pezaro would have known the appropriate action in April 2010 "when he had been immersed in 3 Squadron culture''.
He said the custom and training of 3 Squadron was to use the test of "comfort'' in poor weather, rather than strictly defined guidelines.
"This custom was established through the action and inaction of members of 3 Squadron Command.''
While Flight Lieutenant Pezaro would have known that aborting the flight was an option available to him, there was reasonable doubt that he knew it was his duty to do so.
"Orders did not specify any action, and custom on 3 Squadron was not to discontinue the flight.
"On this issue therefore there is reasonable doubt on whether a duty was imposed on Flight Lieutenant Pezaro to abort the mission. Linked to this, there is also a reasonable doubt that he knew it was his duty to do so.''
Wing Commander Sexton said there was also reasonable doubt over whether a reasonably capable and careful officer of similar seniority and experience would have aborted the flight.
"The evidence presented created significant doubt over this element of the charge.''
Flight Lieutenant Pezaro had been leading a three-helicopter formation early on Anzac Day 2010 when an Iroquois helicopter crashed into a Kapiti Coast hillside, killing three crewmen and seriously injuring a fourth.
He was charged with failing to abort the transit flight when cloud dropped below minimum height.
- APNZ