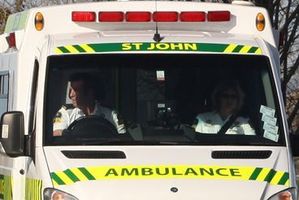 A young girl escaped serious injury after riding her push scooter into the path of an oncoming car yesterday.
The 6-year-old was admitted to Hawke's Bay Hospital with moderate injuries, where she remained in a stable condition last night.
It is believed she was heading along Onga Onga Rd in Waipawa about 11am, when she left the pathway and rode directly in front of the vehicle.
"She has been very lucky," Hawke's Bay Road Policing Sergeant Clint Adamson said. "The driver did everything possible to slow down. It was in a 100km/h zone so they must not have been going too fast."
In Napier, police attended another near miss, after a truck and trailer unit failed to give way to a car going through the Georges Rd-Latham St roundabout at 11.30am.
"The car was then shunted back into another vehicle. As far as I know, no one was taken to hospital," Mr Adamson said.
A crash involving a single utility vehicle was reported on Tuki Tuki Rd, near Haumoana about 3pm.
"The driver has left the road and ended up in a shelter belt. Alcohol is not a factor - he was breath-tested - and neither was speed."
The only occupant - a male driver - was taken to hospital by St John ambulance to be checked over.
"It was just one of those days where people made mistakes," Mr Adamson said.
"Fortunately there were no serious injuries."
For more articles from this region, go to Hawkes Bay Today