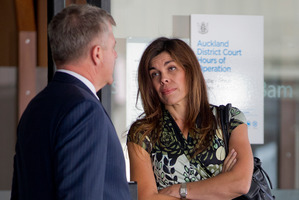 A public relations executive accused of abusing her husband has reappeared in court, where the the judge has asked if the police were being used as a "tool" in the couple's domestic dispute.
Sarah Patricia Olliver, 43, has pleaded not guilty to one charge of abusing her property developer husband, Greg Olliver, while a protection order was in force.
The managing director of Markom PR, who uses the surname Sparks in her profession, will face a defended hearing in July.
During yesterday's hearing at the Auckland District Court, Olliver's lawyer, David Jones QC, said there had been "a lot of, shall we say, calls to the police over issues".
Mr Jones said the protection order had been issued without his client's knowledge but withdrawn a week after the alleged incident.
"So Your Honour can see the level of the incident."
Judge Philip Recordon then asked Mr Jones: "Are police being used as a tool?"
Mr Jones replied: "That is a very clear perception, sir."
Judge Recordon remanded Olliver on bail to her home in St Heliers.
According to her online LinkedIn profile, Olliver founded Markom PR in December 2000. Mr Olliver has been a prominent developer, putting up plans for sensitive seaside land, including at Long Bay on the city's northern outskirts.
At one stage his fortune was put at around $250 million.
* Read the Herald's live news blog here.
- APNZ