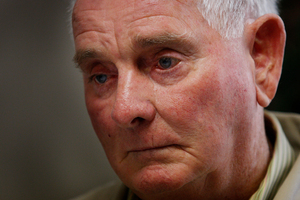 A rare media appearance by Crewe murder accused Arthur Allan Thomas tomorrow will address the death of the officer who planted evidence that wrongly convicted him.
Former police inspector and officer in charge of Harvey and Jeannette Crewe's 1970 murders, Bruce Hutton, died late last month before an independent review into the case and an investigation into police malpractice had been completed.
At his funeral, Deputy Police Commissioner Mike Bush told mourners Hutton had "integrity beyond reproach" and former detective Norm Sowter said accusations against his friend were "untrue and totally unsubstantiated".
Thomas was convicted in two trials - in 1971 and 1973 - of killing the Crewes at their Pukekawa home but was pardoned nine years later.
A 1980 Royal Commission of Inquiry found Hutton and detective Len Johnston faked evidence against Thomas by planting a cartridge case from his rifle at the murder scene.
Tomorrow's media appearance will be at 11am at the Pukekawa Hall, in Waikato - close to the scene of the crimes.
Arthur will address what was said at the funeral, and the associated implications for both the review of the Crewe file and the investigation into police malpractice.