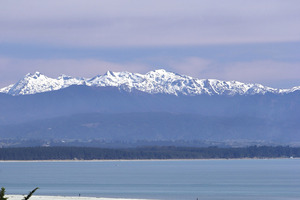 An experienced and competent tramper died during a mountain climb when she plummeted 30 metres after losing her footing in "extremely unforgiving terrain", a coroner has found.
Friends walking ahead of Marjory Ruth Hesselyn, 56, warned those at the back of the group to take care as they crossed a difficult ridge during a tramp on Mt Arthur near Nelson in March last year.
The group of six friends were halfway through the first day of a two-day tramp, having already covered "quite challenging terrain" before lunch.
None of Ms Hesselyn's friends saw her fall but they heard her yell, presumably as she slipped, Coroner Carla Nagara said in findings released today.
"One of her companions had an emergency locator beacon and a cellphone and emergency services were notified immediately," Coroner Nagara said.
"Another companion was a paramedic, who descended to Ms Hesselyn and confirmed she had passed away."
The coroner concluded that Ms Hesselyn died of "severe head and spinal injuries" as a result of the fall.
"Her death was clearly a tragic accident and I extend my heartfelt sympathy to her family and friends on their loss," Coroner Nagara said.
- APNZ