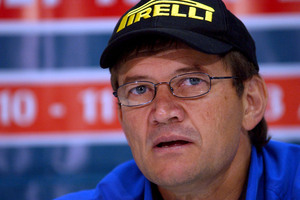 A statue of Pukekohe's favourite son has been unveiled in the South Auckland town he called home.
Family and friends of Possum Bourne joined community members in the town yesterday to unveil the life-size likeness of the late rally car racing legend.
Bourne died 10 years ago from injuries he received after being hit while driving a standard road car on the Race to the Sky course near Cardrona, in central Otago.
A large bronze statue of the 47-year-old was erected on the road near the crash site the following year, but the annual Race to the Sky event ended a few years ago. So the statue has been moved to Bourne's hometown, at the request of his widow, Peggy.
"I've always taken solace in seeing it," she said.