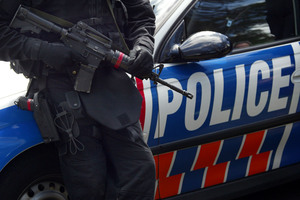 An Armed Offenders Squad callout in the Wellington suburb of Miramar has been resolved.
A property was cordoned off on Townsend Road while armed officers carried out a search.
A neighbour who watched the drama unfold said he could hear a negotiator with a loud hailer trying to convince a man come out of the property.
"They were telling him 'come out; you won't be hurt'," said the man who asked not to be named.
"I heard them shouting 'show yourself but but don't carry anything in your hands'. It was a pretty dramatic."
Police had blocked the road off at 8am but did not get the man out of the property until early evening - after breaking into the unit, one of four on the road.
"I heard the door being taken out. There were windows smashing. It was a real ruckus.
"The armed offender squad was there and there were a couple of police dogs. There was a bit of a scuffle before they eventually took him away."
The neighbour said he didn't know who lived there but had not known the residents to cause trouble previously.
"It's not very nice to find there may be firearms near where you live."
A neighbour who did not want to be identified said she was told police were executing an arrest warrant. Officers had left by 8pm, she said.