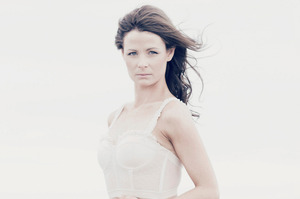 Hannah Eaton may have been better known as the wife of Hawke's Bay rugby star Chris Eaton, but she had a life of her own as a mum, part-time model and in the last month, a midwifery graduate.
These are some of the ways those close to her are remembering the 25-year-old, who died in an Easter weekend crash.
At the time her husband was in Sydney preparing for the first match of a new rugby career overseas, with hopes of taking his family even further abroad later in the year.
The tragedy happened about 9.20pm on Saturday as the vehicle she was driving collided head-on with a Ford Territory SUV, near Puriri, on SH26 between Paeroa and Thames.
Chris Eaton, 28, a veteran of 64 games for Hawke's Bay and 27 Super 15 games for the Hurricanes, received the news preparing for his debut off the bench for the Western Force against the Waratahs.
Signed with the franchise in February as a third halfback and short-term cover for injured Wallabies' player Brett Sheehan, he withdrew and flew back to New Zealand to join four-year-old daughter Layla and other family members in Tairua.
Magpies' coaching assistant and former All Black Danny Lee last night described it as "devastating," and said with Eaton being an "integral part of Hawkes Bay" his wife was well-known to all involved with the team.
"It's sickening to think about, and we will support him and Layla as much as we can," he said.
Tom Blake, first senior rugby coach for Chris Eaton, and MC at their Te Awa Estate reception after their wedding in January 2011, said Hannah (nee Stephens) "knew what she was getting herself into as a wife of a provincial rugby player just embarking on life as a fulltime professional. He said she strongly supported and followed her husband's career."
While studying midwifery, Hannah Eaton revelled as a part-time photographic model, and news of the death stunned award-winning Havelock North photographer Richard Wood who had worked closely with her over the last two years.
"She was just very special," said an emotional Mr Wood, who had photographed the couple's wedding.
He recently wrote on his Facebook page: "One of my favourite models. She just gets it right."
Western Force teammates wore black armbands during Sunday's match, and All Blacks and former Hurricanes' teammates Piri Weepu and Victor Vito were among those to express condolences and support via Twitter.
Fellow halfback Weepu said: "My thoughts and prayers go out to you and Layla brother. Stay strong my mate. Words can never bring her back, but we here 4 you."
Eaton appreciated the support with a message yesterday: "Thanks for the support. I love my wife so much it hurts. My angel Layla is my world and is the last thing holding me together. Love 2 all."
Former Magpies and Hurricanes' player Daniel Kirkpatrick, now playing in France, said: "Thoughts, prayers and love go out to the brother @CChriseaton and Layla. Can't even imagine what your going through in this tragic time. #arohanui."
The Western Force franchise released a statement online last night which said: "Players and staff at RugbyWA and the Western Force extend our deepest sympathies to Chris, his family and friends. Will continue to provide any necessary support to help them through this period."
Chris Eaton's rugby career blossomed at St John's College, Hastings, and in 2002 he appeared in a Hawke's Bay secondary schools team laden with future stars such as eventual All Blacks Hika Elliott and Bryn Evans, who became good friends and who were both at the wedding two years ago.
Mr Blake ushered the Flaxmere teenager into the Hawke's Bay Sevens squad, and playing premier club rugby first for Havelock North he graduated to the Magpies squad in 2005.
With Danny Lee returning to the club, Eaton transferred to Taradale two years later.
The death was one of three fatalities reported by police over the Easter holiday road toll by early last night.
The others were Temuka cyclist Stephen John Kirkcaldie, 55, who was killed when he collided with a vehicle at a rural intersection north of Timaru soon after the toll period started on Thursday, and Paraparaumu Beach man Antony John King, 53, a passenger who died when two vehicles collided about 2am on Saturday on SH5's Thermal Explorer Wairakei-Rotorua highway.
For more articles from this region, go to Hawkes Bay Today