Holidaymaker who saved drowning toddler had 50 years' experience with St John.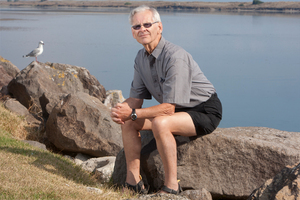 An Auckland man who gave CPR to a toddler found face down in a hot pool has played down his actions.
John Henwood was armed with the equipment and the expertise to save the 2-year-old boy's life on Monday.
Mr Henwood, from the North Shore, has five decades' experience with St John Ambulance but is now semi-retired.
He and wife Jane were spending two nights at Awakeri Hot Springs this week as part of a three-week campervan holiday.
"We were having lunch about 2pm when I heard somebody yelling for help and asking for emergency services to be called," Mr Henwood said.
He grabbed his first-aid kit, including oxygen he had in his campervan, and ran to the pool where a woman, believed to be a relative of the toddler, was administering CPR.
"What she was doing she was doing well so all I really ended up doing was assisting," he said.
"If she had not been doing so well then perhaps I would have done more."
He said the youngster was completely unresponsive during initial resuscitation attempts.
"I carried on with first aid-type things before handing the little one over to the ambulance staff, that's the best way to put it - nice and simple," Mr Henwood said.
"You could say I dealt with a situation to the best of my ability, which is no more than anyone else would do in the same situation. There was a little boy, something was broken, and it was a matter of fixing it."
He was quick to praise the relative initially carrying out CPR on the toddler.
"I believe, through a combined effort, the little boy was given the best chance anyone in that situation could be given."
However, Awakeri Hot Springs campground owner Kevin Haig tells a slightly different story.
"The man you are talking about did most of the CPR while his wife assisted," Mr Haig said. "I was watching over his shoulder the entire time including when he gave the little boy oxygen. It was very clear he knew what he was doing and knew it well."
Mr Haig said the situation looked pretty grim for some time.
"When the youngster finally started coughing and then crying I think I even managed a small smile. He was bundled into an ambulance and looked to be doing okay so Iwas quite surprised to learn hehad been flown to Starship hospital in a bad way."
The toddler was yesterday in a stable condition at Starship in Auckland.
Mr Haig said he was glad to have had Mr Henwood around on Monday.
"Even though I've trained in first aid, having someone there to give the boy oxygen would have made, I believe, a huge difference to the outcome."
Mr Henwood and Mr Haig agreed the incident highlighted the importance of first-aid training.
- APN
For more articles from this region, go to Rotorua Daily Post