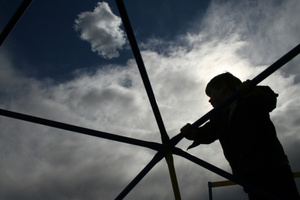 A primary school girl has been flown to hospital with suspected back injuries after falling about four metres from playground equipment.
The 12-year-old was climbing a rope on a piece of equipment at Porangahau School in Southern Hawkes Bay about 10.30am today.
School principal Doug Hales said the girl fell and landed awkwardly on the soft rubber matting underneath the equipment.
"We were really worried about it so we called an ambulance, and ... as a precaution they thought they'd get her checked."
The Lowe Corporation Rescue Helicopter flew the girl and her mother to Hawkes Bay Regional Hospital. She has since been discharged with no injury.
The school would be reviewing the playground equipment see if it could be made safer, "but not take too much of the risk out", Mr Hales said.
- APNZ