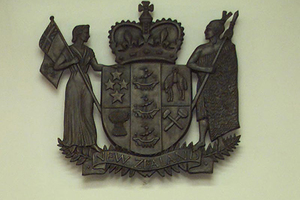 A man whose girlfriend died after he helped her shoot up on methadone has pleaded guilty to a charge of manslaughter.
Matthew Shane Johns, 36, was charged last year with the murder of Sanchia Wilson.
The charge has amended been to manslaughter and he pleaded guilty when he appeared before Justice Ronald Young in the High Court at Wellington yesterday.
The police announced they were investigating the drug-related death of Miss Wilson on April 2 last year - the day after the 33-year-old was taken off life support at Wellington Hospital.
Two men arrested in relation to her death appeared in Wanganui District Court the same day. Both Johns and Clive Kenneth Beach, 58, were charged with supplying the Class B drug methadone.
Five days earlier, on March 28, Miss Wilson fell unconscious at Beach's house in Castlecliff and was rushed to Wanganui Hospital in a critical condition before being transferred to Wellington Hospital on March 31.
Miss Wilson had moved to Wanganui from Hamilton not long before.
Beach, a registered methadone user, was sentenced in the High Court at Wanganui to 10 months' home detention on December 17 last year, after admitting three counts of supplying methadone. One count related to the methadone linked to Miss Wilson's fatal overdose and the others were representative.
Beach supplied a quantity of the drug to Johns on the morning of March 28 last year.
Johns and Miss Wilson then went into the toilet at Beach's house and injected the drug.
Johns put Miss Wilson to bed after they had shot up but checked on her throughout the morning.
He later went out and returned to find Miss Wilson unconscious. He was charged with her murder in June 2012.
Methadone was one of three drugs detected in Miss Wilson's system about the time she died.
Johns was aware his girlfriend had also taken nitrazepam, but his lawyer said he did not know she had codeine in her system as well.
Debbie Goodlet said Johns acknowledged he gave Miss Wilson too much methadone. However, there were more drugs in play than he knew about.
Codeine was detected in a sample of Miss Wilson's urine taken on the evening she was admitted to hospital - a fact the Crown had overlooked until it was asked to consider amending the charge of murder to manslaughter earlier this month.
The defence's toxicologist believed the codeine would have contributed to Miss Wilson's death.
Furthermore, whether Johns injected Miss Wilson with the drug or held her arm while she injected herself with methadone is still disputed.
Johns will be sentenced for manslaughter on April 12.
For more articles from this region, go to Wanganui Chronicle