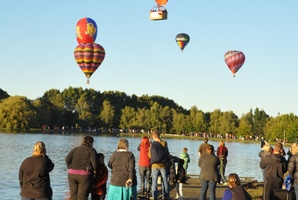 Thousands of people converged on Wairarapa for the 15th annual Trust House Balloons Over Wairarapa festival which concluded yesterday and its future is looking promising.
Festival director Martyn Stacey said the bumper year confirmed that the festival had a bright future and could be expanded upon next year.
The impressive crowds and the excitement which prevailed during the four days of memorable aerial escapades demonstrated that the festival could go from strength to strength during the coming years, he said.
"The Wairarapa remains one of the best places to fly in New Zealand with the perfect combination of great people and a great flying area. Balloonists love coming here and these past four days are just added proof of that."
Mr Stacey said he had received great feedback from visitors as far away as Ireland.
He said he hoped to expand next year's line-up with more serious competitions and a dawn patrol, and he said it was encouraging to see the number of people supporting the festival following the balloon tragedy in Carterton early last year. "Nobody's ever forgotten about them," he said, "It's a very positive move that we have the balloon festival."
Destination Wairarapa general manager David Hancock said the festival was part of a full calender of events for the region.
"That's something a lot of regions just don't have," he said.
Wairarapa Balloon Society chairman Jonathan Hooker said the good weather was a major plus and he estimated at least 3000 people attended the night glow. "That would be the best number we're had for a really long time," he said.
For more articles from this region, go to Wairarapa Times-Age