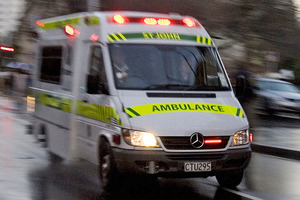 A 19-year-old man who rolled his ute called his own ambulance after laying trapped for two hours with spinal injuries.
The teenager was found by emergency services in a central Hawkes Bay paddock and airlifted to Hawkes Bay Hospital by the Lowe Corporation Rescue Helicopter about 8am on Saturday.
It's understood he had lost control of the ute he was driving and plunged down a bank and into a paddock at the side of the road.
The accident occurred far up Tukituki Rd near the Ruahine Range. It is believed the man had come from a dairy farm on which he had been working.
Constable Andy Walker of Waipukurau police said it was believed the man had been in the crashed vehicle for a couple of hours before he was found.
"He rang 111 but he was very confused and he wasn't sure of his location.
"He wasn't actually saying a hell of a lot, to be honest. He was pretty confused: He thought he'd been lying in the paddock all night."
The teen had been taking a left-hand bend when his vehicle slid off the right-hand side of the road and became airborne, going down a bank.
He clipped the top of a fence and rolled or flipped before the vehicle came to rest on its wheels in the paddock.
Mr Walker described it as a "violent sort of crash" but the ground where the vehicle had landed was swampy and soft.
Police were not yet sure why the man lost control of the vehicle.
Yesterday he was in a stable condition at Hawkes Bay Hospital.
"He was bloody lucky," Mr Walker said.
"The spot he was in was one of the only spots you can get cellphone coverage."
St John Ambulance Service Hawkes Bay district operations manager Stephen Smith said the call was received at 7am.
An ambulance from Waipukurau attended before the rescue helicopter arrived with a intensive care paramedic aboard.
For more articles from this region, go to Hawkes Bay Today