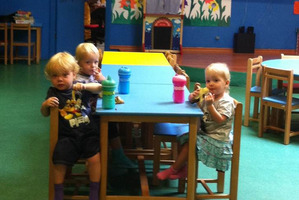 A blanket media ban is preventing coverage of a court hearing into the deadly Doha mall fire that killed 19 people, including New Zealand triplets.
Lillie, Jackson and Willsher Weekes, 2, died, along with 10 other children and six adults in the fire that swept through the Villaggio Mall on May 28 last year.
Online newspaper Doha News had been covering the criminal hearing to determine responsibility for the deaths but the judge recently imposed restrictions which meant editor Shabina Khatri was allowed to attend the hearing but not to report.
Other media organisations had also previously been refused rights to publish on the hearings "and that's why no other media have been to these trials", she told Radio New Zealand today.
"For me it was surprising and it wasn't surprising," she said about the judge's ruling.
"Definitely the judge has discretion in these matters and he hasn't been rude to us of angry with us.
It seems like he just wants us to go through the process. The only problem is it's very difficult to figure out what the process is here," Ms Khatri said.
"It is unfortunate and I feel especially bad for the relatives and the victims' families who don't speak Arabic and don't really know what's going on and they want to be informed."
Witness testimony finished last week and closing arguments will be heard at the end of the month.
The media restrictions are the latest of a string of frustrations over the case.
The hearing was postponed four times because the owners of the Gympanzee daycare centre failed to show up.
In January, the triplets' father Martin Weekes voiced concerns over evidence in the hearing, saying the judge and victims' families had not been presented with an independent report into the fire.
The report was produced in one week, after which all evidence on the mall was destroyed, Mr Weekes told APNZ.
"To this day, we have been denied access to that report ... not only have we been denied access to it, it's not been presented to the court. The most scientific piece of evidence that's available has not been presented to the court," he said at the time.
Last month the hearing revealed evidence the nursery was not licensed, and victims' families who also said they felt insulted and attacked by questions posed to them during the hearing.
* Read the Herald's live news blog here.
- APNZ