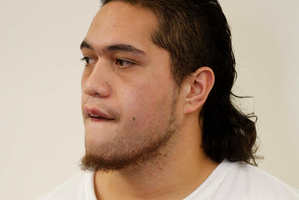 The father of a man accused of assaulting a lone police officer in a remote Waikato town says his son has been portrayed as a "gutless, cowardly, vicious thug".
The Kawhia officer is back at work after his community raised funds to send him and his family on a break overseas.
Jackie Maikuku, 20, appeared at the Te Awamutu District Court yesterday to face charges of aggravated assault and assault with intent to injure on Constable Perry Griffin on January 11.
The charges stem from an incident in which Maikuku allegedly attacked Mr Griffin, who had tried to arrest him on several matters including breaches of community work, intensive supervision and reckless driving.
Maikuku's lawyer, Roger Laybourn, said his client would enter not guilty pleas when the matter goes to trial.
The Herald understands Mr Griffin returned to his duties about three weeks ago with the help of another police officer in his first week back on the job.
A close associate of Mr Griffin said community leaders held a lunch for the police officer in Pirongia in a show of support for him and his family.
She said the Kawhia community raised enough money for Mr Griffin and his family to take a break overseas.
The associate said Mr Griffin had no plans to leave Kawhia and was quickly back into his stride, saving a girl's life.
"He had only been back for maybe a day or two and he helped to save a young girl at Ocean Beach.
"People had missed him all right, but things are back to normal with him around and it's good."
Outside of court, Maikuku's father, Jackie Maikuku snr, said his son had been given a rough deal and the incident had been stressful for him and his family.
"He's been portrayed as a vicious, cowardly mongrel but ... we were there on the day and know exactly what went down," Mr Maikuku said.
"There are certainly videos out there that will cause a lot more questions to be asked."
He initially faced assault charges from the same incident his son is charged over, but the charges have since been dropped.
Mr Maikuku said his son had strong support in his hometown but he was unsure of whether the young man would return to the township if his innocence was proven.
Jackie Maikuku was remanded in custody yesterday.
He has pleaded guilty to the matters Mr Griffin originally wanted to speak to him about and will be sentenced at the Hamilton District Court next month.
* Read the Herald's live news blog here.