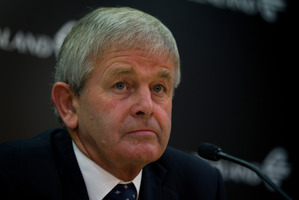 Former Solid Energy chairman John Palmer has backed Prime Minister John Key's claim the company's ambitious plan to become a "national resources company" would have cost the Government at least $1 billion.
Mr Key made the claim last month when it was revealed Solid Energy was on the verge of collapse because of high debt levels and low coal prices.
But Labour pounced on comments this week by Mr Palmer that the company never sought cash from the Crown to pay for its plans.
Mr Key yesterday released documents detailing the company's plan, including estimates it would require $2 billion to $3 billion of capital investment a year for a decade.
Labour's state owned enterprises spokesman, Clayton Cosgrove, said the documents failed to show Solid Energy had sought money from the Government.
But Mr Palmer yesterday said: "I certainly understand the Prime Minister could clearly have said if we proceed with this, the implications of this is a billion dollars or more."
He understood there was a Treasury document looking at the proposal's funding implications for the Crown but he hadn't seen that.
"I can understand why (Mr Key) might have said ... this was a proposal with those sorts of costs, particularly because he would have had the benefit of the Treasury paper."
His comments were in contrast to those he made on Thursday to Parliament's commerce committee.
"Were we talking to the Government about the possibility of capital and receiving that from the Crown? The answer is no," he said then.
Mr Key's Government rejected the natural resources company plan, but he has said the company's pursuit of more modest investments were a factor in its current problems.
Labour has this week sought to highlight inconsistencies in Mr Key's statements on Solid Energy as it claims his Government failed to adequately monitor the company.
Yesterday, Mr Cosgrove said Mr Key was "all over the place" about his discussions with the company on its investment plans.
Mr Key said he had rejected Mr Palmer's proposal to fund Solid Energy's self-described "audacious" expansion plan by partially selling the company to private investors.
"That would involve taking more than 10 per cent of the company and not putting mums and dads first," Mr Key said. "I made it quite clear to him we had campaigned on a mixed-ownership model which didn't involve someone having more than 10 per cent in the company."
But Mr Cosgrove pointed out the proposal had been rejected in September 2009, more than a year before Mr Key announced the mixed-ownership policy and two years before he campaigned on it.