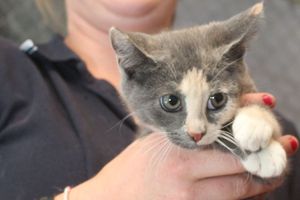 Stories making headlines across New Zealand at noon include the link between hot weather and cat breeding, and a burglary ring busted in the Far North.
High temperatures have apparently led to cats breeding at a younger age, with some from about four months.
Two burglary rings have been targeting homes and baches in the Onerahi and Whangarei Heads area.
A man sentenced to prison yesterday for synthetic cannabis-fuelled crime has said its effect on the community is as bad as class-A drugs.
Rosey Ross was disgusted to find her 88-year old mother Elleanor Tippler, who suffers dementia, was made to wear someone else's dirty false teeth after her's were lost in the rest-home.
A Northland newspaper can now claim 1.5 million readers thanks to Top Gear host Jeremy Clarkson.
People hope a Facebook page will somehow make Rotorua MP Todd McClay vote in favour of same-sex marriage.
Bay of Plenty sports teams are suffering infected wounds and painful grass burns because of the drought.
News that a murder charge has been laid in relation to the death of Indian man Amandeep Singh in December has been welcomed by the Singh family.
The election of Pope Francis yesterday was met with cheers and music in Rome and celebration in Wanganui.
New toilets have rolled into action in Martinborough.
A group of landowners whose empty sections lie within the red zone in Christchurch have refused to accept a Government offer for their land.
Former Pike River Mine boss Peter Whittall's lawyer argued in the Greymouth District Court today that it would be impossible for him to get a fair trial on the West Coast.
Top trending topics on Twitter in NZ at Noon were #ForceBumpTitanium, #askbeau, #NRLParCby, #followmeharrison, #Vote1D, Google Reader, Solid Energy, #nzlead, #KCA and New Zealand.
Other stories making headlines across NZ this morning:
Rotorua lawyer struck off
Covering cracks to avoid skating injuries
Bosses told to tighten social media policies
Long road back for hit and run athlete
Body builder refused bail