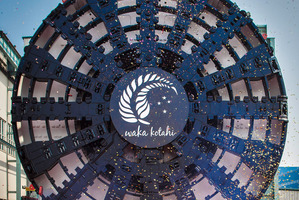 As a giant tunnelling machine is packed into 20 shipping containers in China, ready to build Auckland's $1.4 billion Waterview link, a major upgrade is starting on the adjacent Northwestern Motorway.
The Transport Agency, whose contractors last week formally accepted the $54 million tunneller from German manufacturer Herrenknecht, has awarded a separate contract for a $220 million upgrade of the Northwestern's marine causeway from Waterview to Te Atatu.
Both projects fall within a $2 billion funding envelope to complete Auckland's 47km western ring route between Manukau and Albany by 2017, as do projects to widen the Northwestern back to St Lukes and to upgrade the Te Atatu and Lincoln Rd motorway interchanges.
The causeway upgrade is needed to cope with extra traffic generated by the 4.8km Waterview connection from the Southwestern Motorway and its twin 2.4km tunnels, which the boring machine will start digging in October after arriving in Auckland in July and being reassembled.
But as well as being widened from six to nine lanes, plus priority space for buses and a cycling/walking path, the 61-year-old causeway will also be raised by 1.5m to cope with rising sea levels. The project is due to be completed in late 2016.
The winning proposal, which the agency said was less than an earlier estimate of $270 million, was submitted by a consortium of Aecom, Coffey Geotechnics, Fulton Hogan, Leighton Contractors and Sinclair Knight Merz.