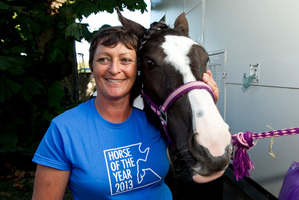 Riding did not just teach Elle Murray a love for horses - it helped her learn to walk and talk again.
The Waipu mother-of-two fell off a car transporter in Wellington 20 years ago and hurt her head.
"I had to learn to walk and talk again, so they sent me to riding for the disabled," she said. "It took 12 months to rehabilitate and then I moved back up north to where my family is from [to continue recovering].
"It maintains my balance and speech, and if I ride regularly the balance problems don't return."
Her love for horses blossomed and now she is in the thick of the horse scene, breeding Welsh ponies and supporting her daughter, Charlotte Colebrooke, 16, through competitions such as the New Zealand Horse of the Year (HOY) Show running at the Hawke's Bay Showgrounds this week.
"I never rode as a child, I had been on my friend's ponies but only just sat on them. I am what you'd call a nana rider but I grew a passion for it and now I breed horses," Ms Murray said.
"They're actually mentally really good for you because when you're around horses you get used to their mannerisms and build communication with them, they're good company.
"It's a big commitment having horses but it's the only sport you can enter the ring and be equal with women and men who have been riding for 30 or 40 years."
The HOY event is expected to attract more than 75,000 people as more than 2600 horses and riders from both sides of the Tasman battle for top honours in 18 disciplines in 28 arenas during the next five days.
For more articles from this region, go to Hawkes Bay Today