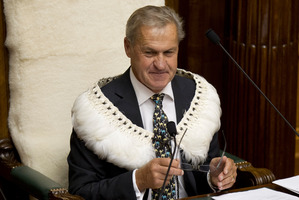 Taking over as Parliament's Speaker after Lockwood Smith's departure for the High Commissioner's job in London was never going to be easy, no matter whom the Prime Minister hand-picked for the role.
Smith will be judged favourably by history for rescuing question-time from its descent into a meaningless hour or so of petty political point-scoring, having made ministers address the question rather than allowing them to spout some vaguely connected spiel.
David Carter, Smith's replacement, knows his initial months in the job will be judged by how close his management of the House follows the Smith doctrine.
Carter, however, has made it clear that when it comes to improving ministerial accountability, it will be done his way - not Smith's.
The latter's tougher stance on ministers' answers benefited the Opposition.
Labour then proceeded to push the boundaries, complaining that just about any reply did not properly answer the question.
Carter has his own solution - to embarrass the minister answering the question by immediately telling the Opposition MP to put the same question again. And again if need be.
This may not seem much of a sanction, but it makes the answering of a question to the Speaker's satisfaction something of a test of competence. Such an approach also avoids the Speaker looking as if he or she is in the Opposition's pocket.
The other noticeable change under Carter's regime is to allow more latitude for interjections and barracking from all sides of the House - an acknowledgment that the chamber is the principal venue for the display of political passion.
Carter also deserves credit for keeping one of Smith's time-saving innovations - blocking MPs from trying to table documents to make a political point when those papers are freely available elsewhere.
It is still far too early to say how Carter's tenure will end up rating the in the long list of Speakerships. As far as the Opposition is concerned, the jury is still out.
What is clear is that Carter will apply the same approach he has employed throughout his political career - to quietly and slowly build respect among both political friend and foe for handling things in a commonsense, unfussy, and unspectacular manner.