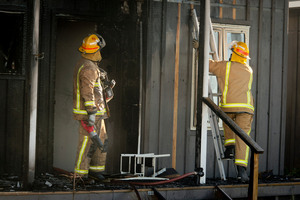 Police remain at the scene of a fire which killed a man in a unit for mentally and physically disabled residents on the outskirts of Napier today.
The body of the wheelchair-bound man, believed to be aged in the mid-50s, was found in his lounge in one of the 10 units in a complex opened by the Whatever it Takes Trust less than two years ago in rural Riverbend Rd.
The chalet-styled unit, the nearest to the Riverbend Rd entrance, was ablaze when the alarm was raised at 5.08am, and the body was discovered only after the flames were extinguished.
Miraculously, damage to an adjoining unit occupied by a female resident was restricted mainly to that caused by smoke.
There was no threat to structures on any neighbouring property, the nearest being at least 200m away.
Fire Service Hawkes Bay area manager Chris Nicoll said he understood the evacuation of all residents had taken place by the time firefighters arrived.
Two fire trucks from Napier supported by tankers from Hastings and Bay View had attended.
While police were still investigating, Mr Nicoll said it was thought the fire started in the bedroom of the man's unit.
The body was removed by an undertaker shortly before midday, and police were still investigating at the scene.
Acting Hawkes Bay CIB head Detective Sergeant Mark Moorhouse indicating earlier there were suspicious circumstances, but like any fire it was treated "as suspicious - until we establish it's not".
For more articles from this region, go to Hawkes Bay Today