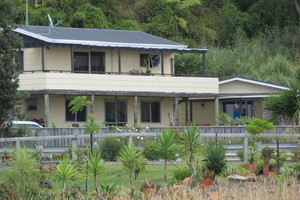 Neighbours say the discovery of premature twin babies' bodies in the Eastern Bay of Plenty is unlikely to prove sinister.
Police were called to a Matata home in Pioneer Place on Friday afternoon after the two tiny bodies were found.
Detectives are now relying on medical experts to reveal more details about how and when the babies died.
It is unknown at this stage whether the babies died after birth or were still-born. Their genders have also not been revealed.
A still-born child means a dead foetus that either weighed 400 grams or more when it was delivered or was delivered after the 20th week of pregnancy.
In a statement, Detective Senior Sergeant Greg Standen said an investigation was underway.
"It is a sensitive situation which is understandably distressing for the family involved and support has been put in place for the family,'' Mr Standen said.
"An investigation is underway to establish the cause of death, which will include a post mortem and liaison with a number of medical experts. That process may take some time and until it is complete we do not feel it would be appropriate to comment further or to speculate on the outcome.''
A person from the close-knit Matata community said she understood a family with teenage children lived at the house.
She said the word within Matata was that there was believed to be nothing sinister in the discovery of the bodies.
Other neighbours in the area did not want to talk to The Daily Post when approached for comment.
For more articles from this region, go to Rotorua Daily Post