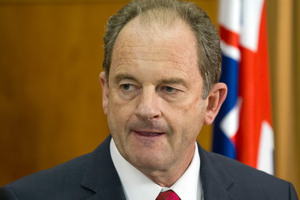 Cantabrians would be helped into driving post-earthquake recovery if Labour returned to Government, party leader David Shearer vowed today.
Mr Shearer said if he was elected Prime Minister next year, he would return more powers to the post-disaster region.
At a breakfast meeting of the New Zealand Manufacturers and Exporters Association in Christchurch this morning, Mr Shearer outlined what he would do to help Cantabrians have more say in the rebuild.
He wants to set up an independent insurance commissioner to help residents resolve disputes, while committing funding for some test insurance cases.
Labour has also vowed for call for fresh elections for ECan, Christchurch's regional council, in 2015, while establishing a Canterbury Earthquake Recovery Authority (Cera) board so that "local independent voices are heard".
Cantabrians deserve the right to drive the rebuild so that the future city that is one people feel safe in, that they're proud of, and that is a living legacy, Mr Shearer said.
"You can't rebuild Canterbury from the top floor of the Beehive. Its future must be led by the people."
Before he got into politics, Mr Shearer worked for 20 years in disaster recovery around the world.
He told the meeting that while emergencies always begin with a top-down command structure, there must be a shift over time to community-driven leadership.
"The National Government sees democracy as a barrier to its plans," he said.
"It's taking advantage of a tired, distracted and devastated city to push those plans through. My approach as Prime Minister will be very different.
"Under National, Cera has engulfed the functions of councils. Elections have been cancelled and appointees installed. Labour will put Cantabrians back at the centre of their recovery."
Labour is increasing its commitment to the region, he said, with more regular engagement including public meetings every six weeks and visits from senior MPs to discuss critical issues like jobs, housing, education and transport.
- APNZ