Air force helicopter makes final swoop over Far North beach and mountain that Ralph Hotere loved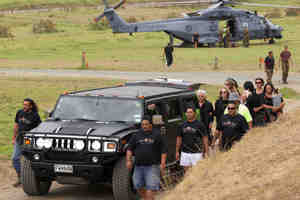 Ralph Hotere's emphatic arrival home was a mark of just how much the country loved him, mourners say.
The noise of the air force NH90 helicopter which carried the artist's body drowned out the Tasman Sea as it circled the Hokianga settlement of Mitimiti just before 2pm yesterday.
It made a small detour around Mt Tarakeha, which looms over the settlement, before it landed in a paddock near the marae, scattering cows.
Co-pilot Mike Garrett said it was at the behest of family who were also on the flight - wife Mary McFarlane, daughter Andrea Hotere and sister Maraea Chung.
"I believe it had special significance for Mr Hotere, we were asked to do a final goodbye and it was no trouble at all."
A black Hummer carried the body the 100m or so along the dusty metal road to Matihetihe Marae, followed on foot by whanau.
For a man who didn't like attention and was notorious for letting his work be his voice, it may have seemed an incongruous homecoming.
But two of his brothers said the flight had always been in his tangi plan - it was a mercy for those who waited for him as it is a five-hour drive from Auckland alone.
"That was his plan, he's been back like that before, up Tarakeha and over the beach and loved it," Winitana Henare said.
Another, Moss, said it fitted with his brother's love of anything fast. The artist had owned a myriad of beautiful cars over the years - V8s, MGs, Jags.
Waiting for him during the morning was friend of 40 years Professor Ngahuia Te Awekotuku, who is the country's leading authority on moko, Maori facial tattoos.
"For me, the effort in transporting him from the south to this remote, isolated and modest little village says a lot about the country's love for him, it really does."
Matt Te Wake, 32, was one of he warriors who performed the arahi, accompanying the body on to the marae. Done for rangatira, it is akin to a wero or challenge but softer and conveying very different emotions.
"It's happy, we're happy to have him home after his long journey, this is going to be his final resting place."
People chatted, smiled and shared jokes at the coastal settlement as they waited for the touchdown of their most famous son. One mourner told the Weekend Herald the last time a helicopter landed it carried former Prime Minister David Lange for the opening of a dining hall.
Labour MP Shane Jones put it this way: "They're very proud to have their tohunga back today."