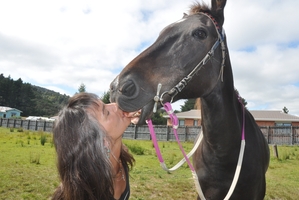 An SPCA investigation into a drunken horse-riding incident outside a Greymouth pub has concluded that the owner should stop her late-night horseback antics.
Louise Stanley caused a furore after she trotted into town on her mount Funky, giving Revingtons Hotel patrons free horse rides, before allegedly trying to ride it into the bar.
Ms Stanley said she was actually trying to get the horse to headbutt a policeman standing in the doorway. She was let off with a warning from police, but then lodged her own complaint with the SPCA about leg injuries Funky allegedly suffered while impounded by the police overnight.
SPCA investigator Jim Boyd told the Greymouth Star the injuries to the horse were most likely to have occurred during Ms Stanley's "silly antics" outside the hotel.
The horse had a couple of abrasions high up on its hind legs, that were healing well and not causing it any grief.
"The horse's hooves were also tender and that was possibly due to it walking on tarseal roads; rest will see them come right."
He was satisfied that Ms Stanley took good care of her horse, "with the exception of her late-night rides".
"We would rather that she did not go horse riding at night time and if she was to do it again I suggest she takes more safety precautions, including having some kind of light on the horse."