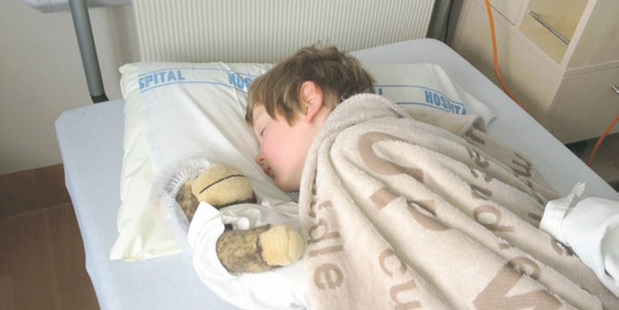 Sergeant Wayne Hunter has issued a missing person's notice at Tauranga Hospital for an unlikely character - a toy monkey named Dr Fitz.
Dr Fitz has accompanied Mr Hunter's son Brodie, 11, to theatre for surgery on about 20 occasions.
However, Brodie will have to go to Starship Children's Hospital for an operation without Dr Fitz for the first time today, as the toy monkey went missing from his room in Tauranga Hospital's children ward between February 6 and 7.
Brodie said he would feel the loss.
"Dr Fitz makes me not afraid when I go into operations," he said.
Brodie was born with storage disease - a mysterious and rare genetic disorder that causes excess substances to build up in certain cells in the body, causing seizures and life-threatening problems affecting the organs, bones and heart.
He is putting on a brave face for his operation today, but admitted the stuffed dog that staff at Tauranga Hospital had kindly given him was just no replacement for Dr Fitz.
Mr Hunter said all the staff loved Dr Fitz as well.
"On many occasions, when Brodie had come back to his room, he found Dr Fitz hanging from the ceiling or bandaged up. They're always playing tricks on each other," he said.
Mr Hunter said family and hospital staff were doing everything they could to reunite Brodie with his best buddy.
Posters had been put up in the children's ward but Mr Hunter said he had to draw the line when Brodie asked him to use CCTV footage to search for Dr Fitz.
Dr Fitz had gone missing on one other occasion. The toy had got caught up in Brodie's hospital sheets and been sent off to the Waikato Hospital laundry. "They found him, because the people at Hamilton know me," said Brodie.
The Hunter family are asking the public to report any sightings of Dr Fitz to staff at the children's ward.
For more articles from this region, go to Bay of Plenty Times