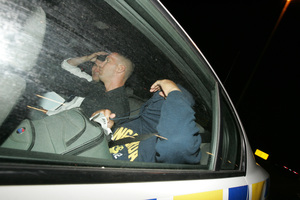 A man accused of rape who reportedly left New Zealand by obtaining a new passport while dressed as a woman can be named for the first time.
Fatu Seti was extradited from Samoa after nearly eight years on the run.
The 42-year-old appeared in Auckland District Court today, facing a charge of rape and failing to answer district court bail.
Seti was granted name suppression when he appeared on Saturday but that lapsed today.
His lawyer Shane Tait asked for "certain aspects of the case" to be suppressed because, he said, they could cause prejudice to jury members at a future jury trial.
But Judge David Harvey said jurors were warned by trial judges not to use the internet or make their own enquiries.
He said much of the information was already "out there" and while he could order information to be taken off the New Zealand Herald website, there could be information archived elsewhere on the internet.
Judge Harvey said suppressing the information would interfere with the court's principals of openness and transparency and the rights to freedom of expression.
He said there was no "real risk" of prejudice to Seti and he dismissed Mr Tait's application.
Seti is due back in court next month for a plea enquiry hearing.
Police allege Seti attacked a 20-year-old woman at a friend's home on Waiheke Island in 2005.
In September 2005, he was charged and released on bail but Seti failed to appear at his court date the following month.
According to the Herald on Sunday, he had been granted a passport under a different name while dressed as a woman.
An extradition warrant was sent to Samoan authorities last month. Seti had been working at a resort as a fire dancer and was arrested on February 7.
During his eight years on the run, he travelled to the United States before returning to Samoa and marrying.
An arrest warrant was issued by Interpol several years ago.
- APNZ