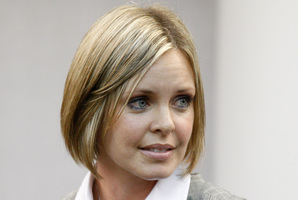 Anna Guy has moved into her new home on Auckland's North Shore as filming gets under way on a three-part TV show about the murder of her brother and jailing of her ex-husband.
Ewen Macdonald was acquitted of murdering Scott Guy last year but sentenced to five years in prison for arson, vandalism and killing animals on Feilding farms - leaving Anna Guy without her brother and unable to trust her husband.
Anna said she and the couple's four children were now settling into their new home.
"Yes, I have moved - it's so exciting. [The children] are loving it. We have only just moved up so we are just finding our way around and sorting out everything, but it's all cool."
Anna was still waiting to hear when filmed interviews with her would be screened on TV3's new current affairs show 3rd Degree.
Reports had speculated Anna would be working on the show, but this was scotched this week by 3rd Degree executive producer Terence Taylor.
"Anna will not be hosting 3rd Degree, nor does she have a position on the 3rd Degree reporting team," Taylor said.
"She will be appearing in three stories which will be about herself - talking about how she is dealing with the twin tragedies that have befallen her.
"We will be with her as she goes to visit Ewen in jail [and] as she says goodbye to family and friends in Feilding."