Kirstin looks to Australia for a costly cure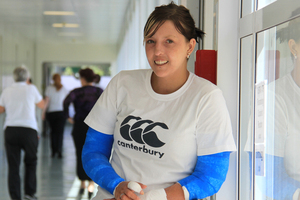 Kirstin Edwards' skin is literally tearing away from her body.
She screams in agony every day from an extremely rare autoimmune disease called systemic scleroderma.
Her only hope is an emerging treatment not available in New Zealand and never used before on a Kiwi.
Kirstin, 27, was diagnosed five and half years ago after the tips of her fingers went a purple-white colour.
Initially, she said, it was painful, but manageable, with blood thinning medication. But the last three years had been "horrible" as the disease progressed rapidly.
"My skin is so tight all my fingers are tearing. My arms are stuck in an 'L' shape and the skin is splitting, which is causing ulcers."
The outgoing and sociable woman now spends most of the day in bed at her parents' Dannevirke house. It takes almost five hours to change her bandages and have a shower - all done by her mother Wendy Edwards.
"I am trapped in my own body. It's scary but I can't die of being scared, I have got to keep fighting."
Kirstin consulted about six rheumatologists. But her elder sister, Nicole Edwards, refused to give up and spent hundreds of internet hours researching the disease.
In September last year, there was a glimmer of hope after Sydney-based haematologist Dr John Moore recommended an autologous stem cell transplant - a procedure which stops the immune system attacking the skin.
The transplant has been used to treat other diseases such as leukemia since the 1970s. It was introduced as a treatment for autoimmune diseases 15 years ago, but is still on trial.
Moore said the treatment cost about $48,000, was "dangerous" and only for patients with severe systemic scleroderma.
This week Palmerston North haematologist Dr Bart Baker said the Auckland and Palmerston North transplant units had been asked to consider the treatment instead of sending Kirstin overseas.
Donations for Kirstin's treatment can be made via Givealittle.

Systemic scleroderma
It affects about 1 in 5000 to 10,000 people and causes the skin to thicken due to an excess of collagen. As a result, Kirstin's skin is gradually bursting like a sausage. Eventually, the scar tissue will thicken and suffocate her organs.