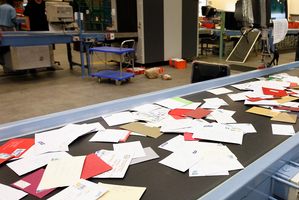 A Customs officer who screened mail for illegal drugs has been sentenced to home detention and community work for dealing methamphetamine and possessing thousands of objectionable pornographic images and movies.
David Wale, 26, earlier pleaded guilty to nine methamphetamine-related charges, including procuring and supplying the Class A drug, and six charges of possessing objectionable publications.
In Waitakere District Court today he was sentenced by Judge Phil Gittos to 10 months' home detention and 200 hours' community work.
According to the police summary of facts, Wale worked as a Customs officer at the Auckland International Airport mailroom, responsible for screening mail for illegal drugs.
As a result of an unrelated homicide investigation, police looked Wale's mobile phone text messages between October and January 2011 and found he was involved with dealing methamphetamine.
Police estimated the amount of the drug involved was 2.5g-3g.
A search of Wale's home in June last year turned up a methamphetamine pipe and empty "point bags".
During the search, police also analysed Wale's laptop computer and discovered a hidden file containing 440 movies and 8702 image files.
"A large proportion of the files depicted incestuous sexual activity, bestiality, and graphic sexual acts," the summary of facts said.
It is understood that at the time of the search, Wale told police that they would also find that he had accessed Silk Road, a secretive online marketplace Silk Road which offers global delivery of illegal drugs, pornography, firearms and fake passports.
Wale told the Herald at the time that he "wasn't using" it.
In court today, Wale's lawyer Andrew Rice pointed to his client's early guilty pleas and lack of previous convictions as mitigating factors.
He also said there was a "certain amount of naivety" involved in the offending.
Customs acting deputy controller operations Bill Perry said Wale had worked as a Customs officer for about 10 years.
He was stood down immediately after being arrested and an internal investigation carried out.
It determined that all his offending was carried out in private and had nothing to do with his job.
"There was absolutely no link to anybody else in the service or any evidence to suggest he was using his position to enable this offending," Mr Perry said.
Customs employees who worked with Wale felt "hurt and betrayed" by their former colleague's actions.
"It's concerning, upsetting and certainly when this sort of thing happens it affects the staff inside the organisation as well. People did feel let down."
Wale is to serve his home detention sentence at a west Auckland address.
- APNZ