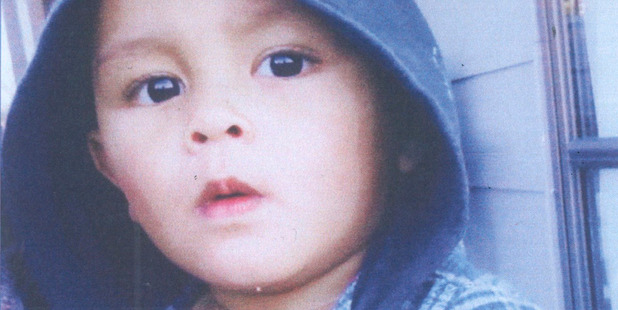 With two broken arms and 30 other injuries, Baby JJ experienced horrific violence in his two and a half years of life.
Warning: This story contains graphic content
His mother's partner, Joel Loffley, was sentenced in the High Court at Auckland today to life in prison with a minimum non-parole period of 19 years for delivering the blow that killed the toddler and split his pancreas and liver.
Crown prosecutor Phil Hamlin said the strike - whether a punch, kick or stomp - had the effect of a hammer on JJ's internal organs - forcing them against the child's spine and splitting them in two.
Born James Joseph Lawrence, the boy would have died a painful death at the hands of his stepfather while his mother Josephine Lawrence was out organising a bank loan for groceries, the court heard.
JJ had tried to follow her but Loffley was insistent the little boy stay behind.
"Leave that boy with me. That boy is mine today," he told her.
Justice Patrick Keane said weighing a mere 14kg, JJ was vulnerable and helpless over the five months he was in the care of Loffley.
"Many of the injuries he suffered must have been inflicted by you. The assault by you on the day he died was simply the last and most extreme."
There was also evidence that Loffley subjected Ms Lawrence to violence.
Justice Keane described Loffley's violence as brutal and callous and said Loffley would have used "extraordinary force" to kill JJ.
"It is likely that when you punched or kicked JJ, you had his small body pinned so that he could not move."
Two of JJ's aunts described Loffley as a "monster" and told the court that not a day goes by when they don't think of the little boy.
Danielle Ruhe said the trial was horrific.
"There were times I had so much hatred for the monster, I could not bear to be in the same room as the monster."
She said she still had photos of the toddler on her phone so she can be close to him.
"How [Loffley] lives with himself, knowing the pain he inflicted on our precious baby, I will never know."
Her sister Roxanne Ruhe-Carrodus said JJ did not deserve anything Loffley put him through.
"In my mind he is an evil monster."
Details of the two-year-old's short violent life were discussed in court today, with Justice Keane mentioning how Loffley would quieten the child by subjecting him to cannabis smoke.
Loffley began a relationship with JJ's mother, Josephine Lawrence in 2010. While in Loffley's care JJ received two broken arms - one left for days because Ms Lawrence was too drunk to seek help - and numerous other injuries.
Other injuries included bruising and scrapes that doctors said were unlikely to be accidental.
But despite the overwhelming evidence, Loffley maintains his innocence.
His lawyer Roger Chambers said Loffley regrets that he did not do more to "protect the child".
- APNZ