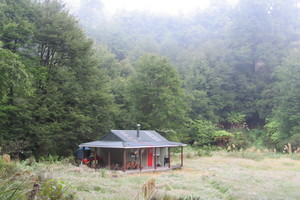 A woman who went missing during a walk in bush in near Murupara overnight has been found safe and well.
The 47-year-old woman was part of a group of 10 people who were walking and running around a loop track in Whirinaki Forest Park, east of Taupo, yesterday when she became separated from her companions.
Emergency services were called when she did not arrive back at the car park as planned.
The woman was found about 12.45pm today near a waterfall close to the track about 8km south of Minginui, police said.
The woman was cold and hungry but otherwise unhurt, police said.
A police spokeswoman said the woman took a wrong turn on the track and ended up walking about 10km in the wrong direction.
She stayed overnight in the Central Whirinaki Hut then made her way back to the intersection where she originally went wrong this morning.
She was located by a search and rescue team which had searched until 4.30am then resumed after a few hours' rest.
- APNZ