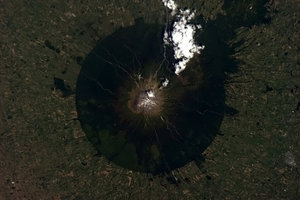 Two avid Twitter users aboard the International Space Station have taken several stunning photos of New Zealand as they orbit 370km above the Earth.
Canadian Chris Hadfield and American colleague Thomas Marshburn have posted scores of images from around the world on their Twitter accounts since arriving on the space station in December, capturing everything from bushfires and flooding in Australia to the Pyramids of Giza and the amazing Richat Structure of Mauritania.
Just this morning, Canadian Chris Hadfield posted photos of Mt Taranaki, Lake Taupo, the Hawkes Bay and Auckland.
"The Taranaki Volcano looks too perfect to be real," Hadfield commented.
"Lake Taupo, NZ. Somehow reminds me of our Pug, Albert," he wrote, likening the shape of our largest lake to his dog.
"Napier on Hawke's Bay, New Zealand. Rugged land, farms, rivers, city and the sea.
"Auckland New Zealand straddles widely varied geology, in colour and texture."
Earlier this month Hadfield also captured a "haunting" image of the Chatham Islands.
Marshburn has posted four images of New Zealand from above, one of the Marlborough Sounds and Nelson Bays, another of Mt Taranaki, and two other images whose locations are hard to pinpoint.
Apart from conducting research and taking photos of the earth flying by below, Hadfield has found the time to have Twitter conversations with Star Trek stars and astronaut Buzz Aldrin and record a song with the Barenaked Ladies's singer Ed Robertson
This morning Hadfield was even interviewed by Star Trek star William Shatner.
Earlier this week Hadfield asked David Attenborough what he would do if he had an evening on the space station.
"I'd just sit and watch the earth go by - it's a perspective I've never had," the documentary maker replied during a BBC Nature online live chat.
Hadfield and Marshburn are among six astronauts aboard the ISS for Expedition 34, which orbits the earth every 92 minutes at 28,000kph.
Commander Kevin Ford, and cosmonauts Oleg Novitsky and Evgeny Tarelkin are due to return to Earth next month, while Hadfield, Marshburn, and cosmonaut Roman Romanenko are due to return in May.