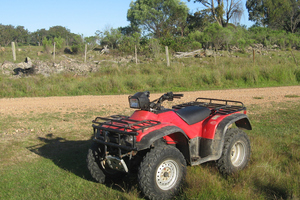 More farmers are wearing helmets while riding quadbikes and the number of ACC claims for related accidents on farms have dropped, new research has found.
In the wake of a series of serious and fatal quadbike crashes in recent months, a survey by the Ministry of Business, Innovation and Employment of 800 farm owners and managers has found 16 per cent more farmers reported some or all riders wearing helmets than in 2010.
Helmet sales continue to increase and almost doubled in the year to June 2012, the ministry says.
In the two years to June 2012, all ACC claims for quadbike accidents on farms dropped 17 per cent.
In the same period, all ACC entitlement claims (representing serious harm) for quadbike accidents on farms dropped 10 per cent.
The ministry's health and safety operations general manager, Ona de Rooy, said she was "pleased to see this positive shift in behaviour".
Federated Farmers health and safety spokeswoman Jeanette Maxwell said while quadbikes were used mostly on farms, "not all accidents are farm-related".
"That distinction is an important one because farm-related quadbike injury and death remains thankfully rare, especially when compared to the road and drowning tolls," she said.
The ministry's survey of quadbike accident victims found half had made changes to act more safely since their accident, including carrying few passengers and increasing use of helmets.
"Despite these positive indicators, serious harm on farms continues to be a significant problem for New Zealand and we are determined to reduce the toll further," Ms de Rooy said.
"The ministry is increasing its efforts over the summer months and inspectors will be visiting farms around the country to enforce safety issues and to provide guidance to farm employees."
APNZ kc lb
- APNZ