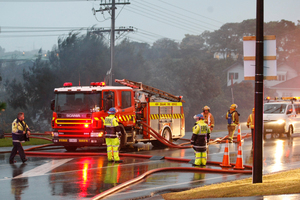 Firefighters in Tauranga and Auckland have battled small fires this morning.
The first engulfed a boat in a driveway at Papamoa Beach early this morning and is being investigated to find out whether it was deliberately lit.
Fire Service senior communicator Colin Underdown said residents at the Rota Close home alerted emergency services to the fire about 4.45am.
The fire was well-involved when firefighters arrived and flames were threatening the nearby house.
The residents were evacuated while the fire was contained.
Mr Underdown said fire investigators would return to the boat this morning to establish a cause of the blaze.
A scene guard has been in place at the boat since the fire was extinguished.
Meanwhile, crews in central Auckland were called to a fire in a prefab workmen's hut on Union Street about 5.05am.
The blaze in 10x4m building was soon extinguished.
- APNZ with nzherald.co.nz