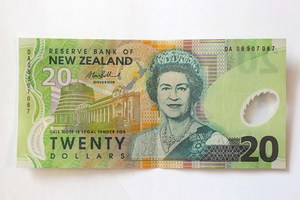 A misdialled number, a $20 debt and the threat of "20 whacks" has sent a New Zealand woman's abusive phone call viral on the internet.
A woman identified only as Karen of Lower Hutt thought she was leaving a message for her associate Rachel when she shouted profanities down the phone demanding the return of the $20.
The unsuspecting couple who picked up the message at home thought it was hilarious and put it on YouTube three days ago. More than 71,000 have listened to the clip so far.
But rather than being embarrassed by the attention, Karen is hoping the YouTube coverage will persuade Rachel to cough up the cash.
"Heaps of people are ringing her up - she was pretty excited about it," said Memory Edmunds of the Hardware Bar where Karen believes Rachel won $600 on the pokies.
"She said people are taking notice of it."
The phone call starts off quite controlled but escalates into abusive screaming as Rachel is accused of winning money at the pub and avoiding Karen to dodge the debt.
Karen said in her recorded message: "She won $600 at the pokies at Stokes Valley bar and she said to Jade and Dion, don't tell Karen you've seen me cause I owe her 20 bucks, well I tell you, I'll get my 20 bucks or she'll get 20 f***** whacks, 20 f***** whacks ...
"I want my f***** money."
Instead of avoiding the Stokes Valley bar mentioned in the call, Karen has been in and told staff she hopes the views on You Tube means she might get the cash back.
"She still hasn't got the money back and I said to her 'Karen, it happened six months ago you're not going to get it back'," Edmunds said.
"But when she came in she said 70,000 people had listened to it. She was pretty excited about it."
Edmunds said the call was the talk of the bar but she wasn't even sure there was any truth to the $600 pokie win.
"If it is the Rachel I am thinking about, she doesn't really play the pokies, she bets on horses," Edmunds said.
"I don't even think Rachel won that money."
Police said they have not received any complaints about the call.