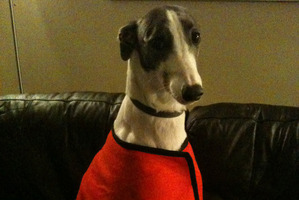 If it wasn't for bad luck, as the old song goes, then Georgina Block would have no luck at all.
That, she believes, is all about to change now that she's sold her rotten luck on Trade Me.
Block lost two pets, had a horse break a leg, discovered an auntie was diagnosed with cancer, had a car fail a warrant of fitness test, and a pipe burst in her home - all in the first few weeks of 2013.
The final straw came when her spade broke as she tried to bury her beloved dog Layla.
Block, 35, a business analyst and mother of one, ended up covered in mud while digging the grave with a saucepan.
And Layla was a big dog.
The pet burial was such a disaster Block looked like a "mud yeti" as she dug the hole with her bare hands.
Block said she set up the auction to try to make people smile - and raise money for her favourite charities.
"I am the sort of person that if I don't laugh, I cry," said Block, from Rangiora, Canterbury.
"So I thought I would do something positive with my bad luck."
Block said it was the perfect gift for a cheating boyfriend, selfish boss or judgmental mother-in-law.
The Trade Me auction, titled: "2013 can kiss my fat hairy ... !!!!", attracted thousands of views and sold to a winning bid of $100 on Wednesday.
Block said she also had a bad run in 2012, with two grandparents dying and being booted out of her quake-damaged home in the space of a few months.
Proceeds from the auction will be split between a breast cancer charity, K9 dog rescue and rehoming, and a cat charity of the buyer's choice.