Sir Paul Holmes - broadcaster, writer, airman, singer, dancer and actor - lived his life large and did good where he could, say those who knew him well. Phil Taylor reports on an extraordinary career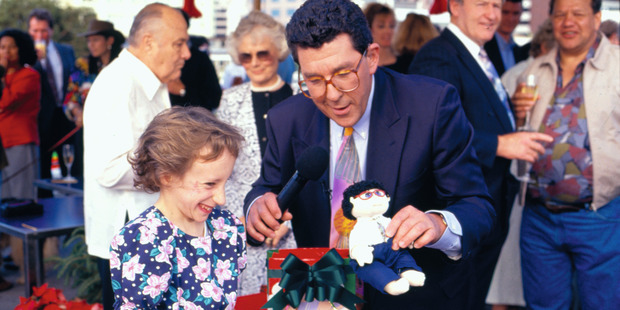 Sir Paul Holmes had the common touch. His success as a broadcaster won him friends among the rich, famous and powerful but not at the expense of his relationship with the rest of us. He loved people and he loved putting on a show and that, together with his intellect, sense of timing, and willingness to push boundaries was what made him.
These lines from Kipling's poem, If, apply: "If you can talk with crowds and not lose your virtue,
Or walk with Kings nor lose the common touch."
He had charisma, a mischievous wit, a sense of whimsy, a delight in the music of words and of performance. He had the performer's need of an audience and a vulnerability that craved reassurance. He had a sense of service, an appreciation of a job well done, a ferocious work ethic and a desire for his work to be validated.
The investiture last month at which he was made a Knight Companion of the New Zealand Order of Merit put a full stop on a remarkable life and meant a great deal to him. Lifelong friend Mike Williams, a former president of the Labour Party, believes the honour added a month to Holmes' life.
Brent Harman, the executive who plucked him from Wellington to become the voice of talk radio at 1ZB in Auckland, says the ceremony at the Holmes' Hawkes Bay home, Mana Lodge, was perfect. "It was like a wake for someone when he was still there."
Holmes, who was 62, was a complex character. He had his battles with alcohol and a disastrous affair in middle age, his head turned by an attractive young woman. His regret about the later lingered.
"My kids," he said in December, while reflecting on his life with the knowledge there was not a lot of time left, "we had such fun in the early days. Then the marriage broke up and things got eternally more difficult."
Harman says that as a broadcaster, Holmes was one of a kind. "We hadn't seen his like before and I don't think we will see his like again. He made my career as much as I made his."
Harman was running 1ZB in 1986 from where its star presenter, Merv Smith, ruled Auckland's airwaves. Management had been wanting to modernise and were pressing Smith to make changes to his programme. On New Year's Eve Smith resigned and took his show to Radio I. His audience departed with him, leaving management needing to make some decisions quickly. Though not an international trend, news talk had been introduced successfully in Sydney and it was thought it would suit Auckland. An anchor was needed for the morning. "We came up with a list of every broadcaster in Australia and New Zealand who might be able to do it. And we came up with a list of the attributes we wanted. We wanted it to be based on news and interviews and opinion. We had lots of aspirations. We wanted it to be pacy, we wanted it to be entertaining, we wanted it to be covering news wherever it happened in the world. We needed someone who could relate to Auckland, who could interview prime ministers and presidents but who had a common touch. We needed some levity, so the person needed to be entertaining and funny at times. "We compared this list of attributes with the list of names we had and we kept coming up with one name, Paul."
A prank call to the Archbishop of Canterbury a decade earlier which got Holmes sacked (the framed letter of dismissal makes delightful reading in the small loo at his home) from Radio New Zealand showed he had "a bit of the devil in him".
Harman recalls flying to Wellington to take Holmes who at the time had the top-rating radio show in the capital to lunch. Lunch became dinner and by the early hours of the morning they two men were still talking as the paced up and down Oriental Parade. He wasn't easy to persuade to leave the radio show that was his first big success. But he came and, says Harman, "it was an unmitigated disaster!". "Ratings sank, the audience declared war on us and left. Revenue sank, morale, everything sank.
"The first year was horrible [but] by mid-way through the second year it was clear it was going to be a success. I've still got the T-shirt [rival] Radio Pacific had printed for us 'No. 1 to No. 6'."
Holmes' star quality was soon recognised. Television New Zealand came knocking and Holmes the TV show was born. His broadcasting career spanned 35 years, including 15 years anchoring both the country's top television and radio news and current affairs shows.
"He can tell stories and broadcasting is all about telling stories," says Harman. He had intellect, knowledge (he was extremely well-read) and had an insatiable interest in a vast range of topics. "I've never known another broadcaster to prepare as well for his shows as Paul did." In the pre-internet days, he would pick up a copy of the Herald as it came off the printing press at 2.30am, and head into work to prepare and write his commentary pieces.
"What worried him most in the early days was that we had bitten off more than we could chew and he didn't want to fail."
He was famous for his off-air venting. "If things hadn't gone well on the show, Paul would be in a tizz and occasionally his temper overflowed. There was one famous incident where he started kicking a radiator. No one was safe from his abuse that morning."
In earlier days his practise was to phone the writer of a piece of criticism about one of his shows and give them a few choice words of his own. He wasn't beyond harbouring a grudge, including against the Herald, for whom he later became an award-winning columnist.
He could always laugh at himself off air, says Harman, and in his later years could also do so in public. "He had the best laugh. He was a most infectious and enjoyable personality."
Last December, during an interview with the Herald announcing he was ending his broadcasting career due to ill health, Holmes mentioned the passage about love in St Paul's letter to the Corinthians. "I believe in the power of love, I truly do." And then he quipped: "It's a bit slower than hate, but love will always win." Sir Paul knew he was dying, yet the wit that allowed him to get away with sentimentality and so much else, was undiminished. He was one of the first to cash in on chequebook journalism, selling exclusive coverage of his wedding to Hinemoa Elder to a women's magazine, while collecting a salary many thought was obscene. His parents were not wealthy, money was important to him.
He did good where he could. Often this involved being open and candid about personal crises: a methamphetamine campaign when daughter Millie became addicted to the drug, being open with his battle with alcohol and the diagnosis in 1999 of prostate cancer, which greatly raised awareness of men's health issues, his championing of the Paralympics. He survived a fatal helicopter accident and a light aircraft crash and at the age of 23 lost the sight in his right eye and broke his neck. He supported disabled athletes, he told the Herald, "because I know that I have got a bill to pay".
He had empathy in spades, as shown by the humanity he showed to Eve van Grafhorst, the young girl infected with the HIV virus by a blood transfusion, who was shunned by many. His generosity wasn't reserved to friends. "He once loaned his Jaguar to a woman, a total stranger who was on the bones of her arse, to use for her wedding day," recalls Williams who, along with Peter Beavan, a former head of Pip Fruit New Zealand, has remained close friends with Holmes since they meet in the third form at Karamu High, Hastings.
All sons of manual workers (Holmes' father, Henry Reuben Holmes, grew tomatoes in glasshouses he built himself), they were smart boys who shared, says Williams, an interest in "politics, history and girls", becoming students of all three at Victoria University. Williams tells of arriving with his girlfriend during their student days at Holmes' flat. His friend appeared at the door wearing nothing but a pair of purple undies. "Oh Christ, I'm not properly dressed," chirped Sir Paul, who promptly reappeared wearing the purple undies and a cravat.
Inspiration for prank calls came on a trip to California in 1974 where Holmes became intrigued by Dave Hull and his radio show, The Hullabalooer, on which Hull would attempt to ring the likes of the Wild Man of Borneo. Two years later, while hosting the new overnight slot at Radio NZ, Holmes managed to get through to the Archbishop of Canterbury, a prank call which earned him the sack.
If he had an Achilles heel, it was that "he reached for the bottle too often" during times in his life when he felt low, says Williams. He was rescued from one of those periods by his second wife, Deborah, now Lady Holmes. "Most of his family and friends would agree that Deborah Hamilton was the best thing that every happened to him because his life got quite unstable when he split up with Hinemoa [because of] the affair with Fleur Revell."
Holmes was living alone in a luxury flat overlooking Takapuna Beach and drinking too much. His friends worried until he met his future wife in a Takapuna bar. "It's quite an anecdote," says Williams. "She came across to talk to him. He said, 'you look like a young Lauren Bacall', and she said, 'who the f*** is that?'. And it was love! They [were] soulmates, he absolutely found the right person."
Bill Francis, Holmes' radio boss for 16 years, spent two years on a succession plan, such was the broadcaster's importance to the station. It was possible, Francis told the Herald, the station might have collapsed had his exit been mishandled. Francis had seen iconic broadcasters treated poorly in that process and did not want that for Holmes. He deserved to go out while at the top of his powers, says Francis. "He was good for another five years but on the other hand he had already done 20 years." Trying to manage the fallout of his star's mis-steps, such as the cheeky darkie quip, fell to Francis. Holmes was accused of racism, as he was after his Waitangi column in this paper. It didn't help that he had used the term on other occasions. Two hundred people formally complained about the slur about former UN Secretary-General Kofi Annan, another thousand made general complaints. Holmes was affected, says Francis, he felt criticism keenly.
"He had a desire to push boundaries but considering the number of shows he did, he didn't get in trouble very often. When he did, they were pretty big ones. Paul always needed a lot of reassurance that he was doing okay ... encouragement that he was on track," says Francis but that didn't mean he couldn't tell his star that he had "cocked up". "He might rant and rave for a while but he would listen."
His love of people, of chatting, of words, of history, a distain of intellectualism and a pleasure in pushing boundaries made him the force he was. It is also why he was able to be a daily fixture on ZB for 22 years and TVNZ for 20 without creating entrenched enemies. Hence, when it was realised that Holmes was not likely to make it to Queen's Birthday weekend, the last Labour prime minister and current National prime minister together arranged for his knighthood to be awarded early.
Rather than trouble, pushing boundaries was usually about finding new ways of doing things, such as including his producer in his radio show and making on-air asides to the cameraman. The audience felt included and entertained in the way of a crowd watching a high-wire act. The sense he was flying by the seat of his pants added to his appeal. This took on a whole new meaning when he was at the controls of an aircraft. "I did fly with him," says Francis, "which was a bit scary."
Sir Paul hired a plane and flew a few radio colleagues to Taupo one year for Christmas lunch at Huka Lodge and then insisted on heading on to Hawkes Bay to visit his mother, Christina, who was waiting at the airport with a flask of tea.
"We'd got to the end of the tarmac [to take off from Taupo] when the control tower called up and said, 'you do realise you are at the wrong end of the runway?'
"His boredom threshold was always pretty low and it was quite a long haul back from Hastings to Auckland, recalls Francis. "He turned up the Concert Programme and started to move the plane in a sort of looping fashion, in time with the music."
He flew planes, wrote books, made a CD, tried acting and stepped out on Dancing With the Stars.
"He always thought he was capable of all these things," says Francis.
And that was Holmes, a life lived large.
Sir Paul is survived by his wife, Lady Holmes, children Millie and Reuben and brother Ken.