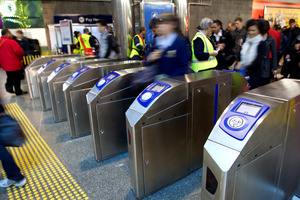 Older Aucklanders fear widespread social harm from cutting back their free public transport entitlement, including to organisations relying heavily on their volunteering efforts.
"Motat [the Museum of Transport and Technology] would fall over if the seniors stopped volunteering," Grey Power city president Anne-Marie Coury told an Auckland Transport hearings panel.
"St John, Red Cross, the hospice shop, the list goes on and on.
"You have got to think about the wider picture, not just the benefits to seniors, but the benefits to society - Auckland does need its seniors more than people realise."
Ms Coury was joined by 20 supporters in calling for free public transport to be retained between 3pm and 6.30pm for SuperGold card holders, an entitlement the Government has asked the council organisation to consider removing to make it consistent with the rest of the country.
Unlike senior citizens elsewhere, older Aucklanders can travel free on most buses, trains and ferries from 9am until midnight on weekdays.
Weekend travel is free at any time to card-holders everywhere.
But a Waiheke Grey Power member, Margaret Harris, told the panel that Auckland's size meant it could not be compared to other parts of the country and requiring people to hurry home by 3pm would be harsh for island residents among others needing more time for medical appointments and other commitments, including volunteering and supporting young family members.
She said that if the Government wanted cost savings, it should invest in mandatory photo identification on SuperGold cards to guard against fraudulent use by people not entitled to free travel, notably on Waiheke ferries, on which crew members had told her "rorting is rife".
Councillor Mike Lee, who is chairing several days of hearings on Auckland Transport's new public transport plan which will continue tomorrow and next week, said the document would have no ability to change the existing entitlement.
He acknowledged that the plan included a commitment to the Government to review the entitlement this year, but said "a review is not the same as changing anything".
The Herald reported this week that the free travel scheme cost $21.36 million nationally in 2011-12, of which Aucklanders used $10.7 million.