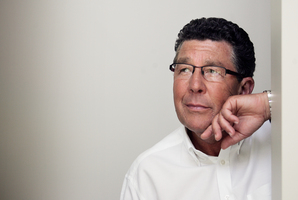 Sir Paul Holmes has no regrets and is happy to spend the rest of his days reminiscing at home.
In an interview with the Sunday programme tonight, Sir Paul reflected on his 30 years in broadcasting and on life.
"I love people. I really worked hard and I did it well, I think. There were some slip-ups and there were some bloody stupid mistakes.
"I upset some bad people - which I don't mind - but I also upset some good people."
Clips of the infamous Dennis Conner interview were shown and Sir Paul admitted he had been trying to get him to walk out all along.
"I wanted some theatre...I wanted him to walk out."
Sir Paul said he had been blessed to have many beautiful women in his life and paid tribute to his wife, Lady Deborah, former wife Hinemoa Elder and daughter Millie Elder.
He admitted there were times he spent too much time in his work and could have been at home more with his family.
Asked about the most memorable story he had worked on, he could not go past that of Aids sufferer Eve van Grafhorst, the little girl who touched the country's hearts.
Pictures of a younger Sir Paul show a very caring relationship between the two.
Sir Paul said he wanted to show people that being around someone with Aids did not mean they would get sick.
"You could let her kiss you...and hug you. I was not afraid of that," he said.