Mum 'lives the dream' on stunning southern lakes.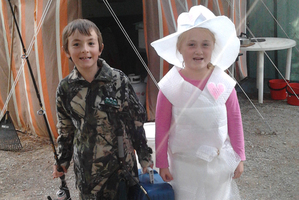 Candey Stone says going fishing with her young family is her idea of living the dream.
The South Island hairdresser swaps her scissors for a rod every few weeks to take off for a weekend of fishing at local rivers and canals around Temuka.
"It's paradise," says the 38-year-old mother of twins. "Actually, it's the best place in the world. We don't travel or go overseas but we've got a lifestyle that gives us lots of free time.
"I think we're giving our kids the best experience they could possibly have."
The family took up fishing three years ago. They not only enjoy the southern trout and salmon fishery, but also get a kick out of seeing wildlife in its natural habitat.
They often go to nearby Opihi and Temuka Rivers, where her fishing-crazy family enjoy hours of fun hooking both freshwater and sea-run stock.
She said her children had graduated from small rods to adult salmon rods, and had their own special lures for the different fishing spots.
"They've come to learn which ones to use for the lake and the canals," she said.
Son Dylan was so hooked on fishing that lures took pride of place on his Christmas gift list, she said.
Her annual summer fishing holiday at Lake Benmore had become a firm family favourite, with the whole family spending lazy days fishing from the lake edge or off the boat harbour.
The Falstone Camping Ground was growing in popularity with people from all over the South Island, she said.
And husband Jason, a fibreglass-laminator by trade, would also take his young son fishing on the lake in canoes he had made.
But the best part of fishing was the eating. There was nothing like whipping up a delicious fish dinner on the barbecue within minutes.
Her latest mouth-watering creation was a fresh trout fillet topped with sour cream and butter, seasoned with lemon pepper, salt and pepper, and wrapped in tinfoil and cooked in the barbecue for 7 minutes.
"I must admit I do a lot of sitting back and watching, but we love it and it's just like living in another world really."