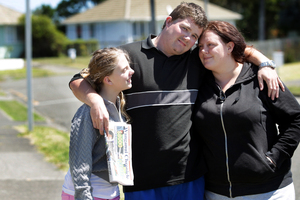 "Are you ready to die today?" Those were the words were uttered by an attacker moments before he used a baseball bat to bash Richard Frederick.
The blow hit Mr Frederick's left leg, behind his knee, and was followed by a demand for his prescription glasses and $400 cellphone.
The 26-year-old was attacked in Gonville, Wanganui, part way through his newspaper-delivery run, about 5.45am on Thursday morning.
When Mr Frederick handed his property over, his assailant threw the glasses on the ground and stomped on them, before telling him: "I don't want to see you around here again."
The attacker fled while Mr Frederick ran in a different direction to a relative's house.
Mr Frederick said the attack was entirely unexpected. He has been delivering the Wanganui Chronicle for six years without incident.
Mr Frederick, who was born with a chromosome disorder, lives with his sister, Amanda Frederick, 32, and her daughter, Jessemine-Grace, 12. He has impaired hearing and a heart condition.
His sister said the attacker was a "bloody coward".
For more articles from this region, go to Wanganui Chronicle