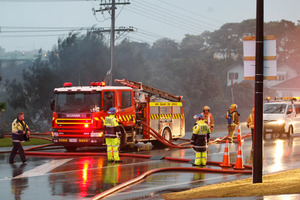 An elderly man has died in a house fire in the East Coast early today.
The Fire Service was called to the property on Whatatutu Rd, in Te Karaka, north of Gisborne, about 2.30am.
Te Karaka volunteer chief fire officer Jamie Simpson said when they arrived the villa-style single-storey house was well alight.
"It was virtually on the ground and all we could do was contain it, then put it out.''
Police said the body of a man was found inside after firemen had extinguished the blaze.
Mr Simpson said they expected to be at the scene much of the day.
"Police and fire safety have an investigation under way and at this stage a cause has not been established.''
A fire appliance from Gisborne responded but was turned back and a tanker was later sent to assist with the dampening down operation.
Detective Sergeant Theo Akroyd said it was too early yet to determine if the fire was suspicious.
"We will work closely with the fire safety investigation officers to determine the cause of the fire. But at this stage we can't say whether the fire was accidentally or deliberately lit.''
A post-mortem examination will be conducted to determine the identity of the person found inside.
Police say an elderly man lived in the house and was well known in the Whatatutu-Te Karaka area.