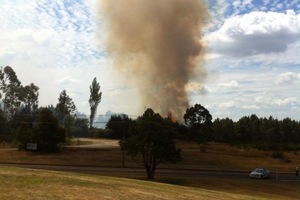 A scrub fire in Taupo which endangered buildings in the area appears to have been deliberately lit.
The large scrub fire on Taupo's County Ave threatened buildings near the Spa Thermal Park, with fire service staff called in at 2.23pm this afternoon.
Incident controller Phil Parker, the Taupo District Council's emergency management officer, said the fire was in the middle of a stand of bush in Spa Park. It appeared to have been deliberately lit because of the remote location. He said it was also the third fire in the area in the last two years.
The fire has destroyed an area between 4ha and 5ha including high trees and scrub.
Mr Parker said there was a lot of hot thermal ground and large gullies, making it difficult for fire crews. The appeared to have been one original fire which spread in different directions.
"There are big deep gullies and a lot of hot area in there. It spread very rapidly."
The fire is now under control and the helicopters have been stood down.
Fire crews are currently working on putting out little spot fires caused by embers.
Firefighters were fine for water supply, despite initial fears they would run short.
Fire crews would spend the rest of the day and overnight keeping an eye on hot spots.
A group of five teenagers who had been swimming at the AC Baths crossed the road to where the fire was to take a closer look.
They described it as being as big as two rugby fields, if not bigger.
They could hear the fire crackling in the trees.
"As the pine needles fell to the ground, they would start little fires on the ground," one of the teenagers said.
The teenagers told The Daily Post they were running around trying to stomp out the fires.
But the flames would spread quickly from one tree to the next.
The teenagers were later told to leave the area by emergency services staff.
For more articles from this region, go to Rotorua Daily Post